| | |
| --- | --- |
| Posted by PCbasics on October 3, 2012 at 4:50 PM | |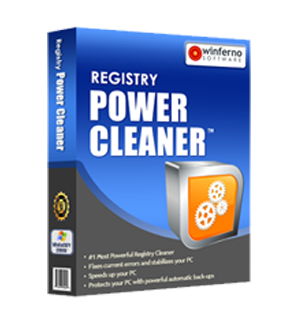 (Credit: Winferno Software)


Overview:
This is a great commercial product to quickly find & safely repair harmful registry errors to make your computer run faster and better. It does its job simply and easily with its easy to understand graphical interface, along with its simple navigation and customization. Stabilize your PC with this easy to use program.
Review:
Winferno Registry Power Cleaner 2013 is really easy to use. It makes it simple for you to locate hard-to-find registry errors and fix them in one simple click. Fixing your registry will fix problems such as computer crashes and computer freezes. The program offers complete scanning and registry report or the option to customize your scan.
The interface of the program makes it really simple for the user to navigate. The features are split into categories so you will be able to find the feature you need without going through hundreds of menus. To customize your scan, all you have to do is check boxes to exclude keys out from the scan.
The scanning is especially fast. To complete scan only took around 1 minute on my computer. After the scan you can repair your errors and review the report on all the errors found. After repairing the errors, the program allows you to restore your registry and un-do cleaning changes in case something wrong were to happen after the repair.
Other Notable Features:
Protect your PC with automatic back-ups
Edit and Remove bothersome start-up programs that slow down your PC
Defragment and Optimize Registry

Product Specs:
All in all
Winferno Registry Power Cleaner 2013 is a good program. The only thing I have to say is, there are many freeware programs that do the same thing. Programs like CCleaner are a popular choice over shareware program that do the same thing. To get the most of your buck, I would stick with CCleaner, but if the developers implement more features in the future, Winferno Registry Power Cleaner 2013 wouldn't be a bad choice to go with. I rate Winferno Registry Power Cleaner 2013 with 4 stars out of 5.