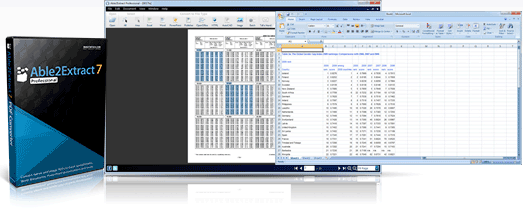 (Credit: Investintech)
Overview:
Able2Extract Professional is a all-in-one converter for your native PDF files and scanned PDFs. This program is easy to use and full of functionality. Packed with 64 awesome features and 8 PDF conversion formats, this will be the only PDF converter you will ever need! The professional version of the program also comes with a additional feature. The ability to handle scanned (image) PDFs.

Review:
At initial startup, the program displays a dialogue box that walks you through each of the 3 steps in the conversion process and gives a description of how and what to do. I love how easy it is to use the program with easy to follow instruction until the very end. It guides you every step of the way and makes it easy for a novice user to take command and use every function of the program to his/her liking.
The newly design interface of version 7 has greatly improves usablity of the program. With graphical buttons and a brank new look, the features are easy to spot. The steps to using the program only consists of 3 steps:
Open your file
Select data you want to convert
Convert to your desires output format
Simple and easy! With this program you get great results due to their OCR technology powered by Accumax CT.
Able2Extract Professional 7 is powered by Investintech's proprietary Accumax CT conversion technology. This technology is unique to our products and ensures that the speed and quality of conversion output into MS Word, PowerPoint and Excel is second to none.
Key Features (via developer):
Easy 3-Step Conversion Solution
Batch Conversion
Proprietary PDF Viewing
PDF to Editable MS Word 
PDF to Word Forms
PDF to Formatted Excel 
PDF to PowerPoint
and a lot more... (read more)
All in All:
Able2Extract Professional is a great program to meet all your PDF conversion needs. It consists of powerful conversion technology and high quality results. Its newly designed graphical interface is easy to eye and allows any user to experience its full functionality. Its simplicity and ease of use gives it a 5 star out of 5 from PCbasics. Highly recommended!
Giveaway:
Did I also mention a giveaway? Thanks to Reena from Investintech.com Inc. to offer me 5 licenses of Able2Extract Professional to giveaway to our readers! One single-user license is normally $129.95 USD, totaling up todays giveaway to be worth $649.75! If you would like to win a free license be sure to follow the rules below:
Leave a comment! (With a valid e-mail)
*One entry per person
 *************************************************************

Optional:
1. Share this giveaway (optional)
2. Join us as a member (optional)

3. Follow us on Twitter (optional)
4. Like us On Facebook (optional)

4. Subscribe to get the latest freebies: (optional)
http://feeds.feedburner.com/PCbasics
Giveaway Overview:


(This giveaway will run for 5 days, ending on 6-17-12)